| Accessories Manual
How to Pair Your Quality Leather Wallets With Leather Jackets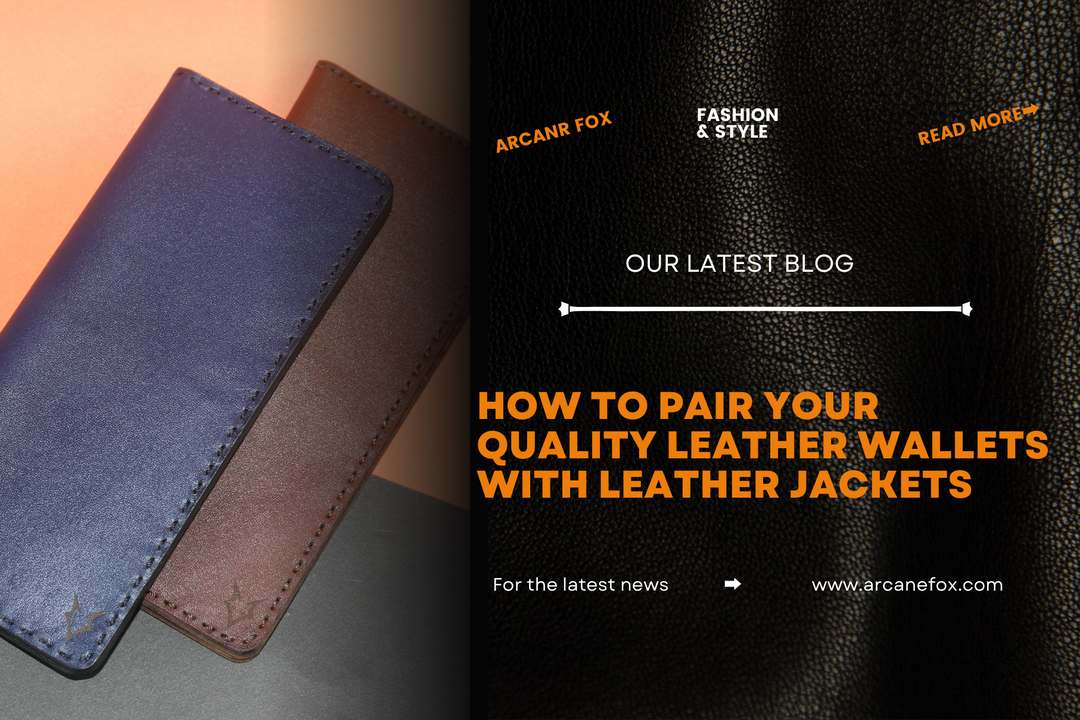 How to Pair Your Quality Leather Wallets With Leather Jackets
The key to taking your fashion to the next level is to perfect the partnering process. Few outfits in the world of fashion ooze sophistication and style quite like men's leather jackets and high-quality wallets. This dynamic pair offers countless chances for individual expression in addition to being the very definition of classic elegance. Learn how to construct a harmonious ensemble by blending textures, tones, and designs seamlessly. However, the secrets to creating a polished and coordinated style that seamlessly combines the usefulness of leather wallets with the cool appeal of leather jackets are revealed in this tutorial.
Understanding the Aesthetics of Leather: The Magic of Pairing Wallets and Jackets
Leather Wallet:
This Bi-fold Hand-Stitched Leather Long Wallet is hand-stitched using waxed polyamide thread and has a soft feel finish. It's made of 100% vegetable-tanned cowhide leather, with a brown outer shell and tan interior. As well as two cash slots and 8 card pockets which can hold up to 20 cards each. This wallet makes a great gift for anyone who appreciates quality, durability, and practicality.
Leather Jacket:

This men's aviator sheepskin leather jacket is made from genuine sheepskin and features a faux shearling interior. When worn alone, the full grain leather outer shell provides maximum warmth and breathability. This jacket has an adjustable faux shearling collar with a turn down, open hem cuffs, two side pockets and zippers at the neckline and cuffs. It also has two inside pockets for added storage space
Exploring the world of fashion reveals an enthralling interaction between aesthetics and creativity, wherein materials convey narratives and designs convey ideas. However, the seductive attraction of leather is at the centre of this world. In this investigation, we set out on a quest to unravel the mystery of the combination of leather wallets and jackets. We explore the magic that happens when these two iconic pieces come together, resulting in a sartorial harmony that is both alluring and classic. This magic ranges from the rich tradition of leather crafting to the modern symphony of textures, colours, and silhouettes.
The allure of leather in fashion
Certain components have the natural ability to enthral and take an ensemble to unmatched heights in the world of fashion. Among these, the attraction of leather stands out as a vintage symbol of sophistication and disobedience, of traditional sophistication and rebellious edge. It transcends seasons and trends with its luscious texture and irresistible personality, which have knitted themselves into the very fabric of fashion. Let's explore the allure of leather and its indispensable contribution to the development of the fashion industry.
Creating a cohesive ensemble with wallets and jackets
The enchantment of fashion is found in how well the many elements work together. Like notes in a symphony, the pairing of wallets and leather jackets creates a stylistic melody that reverberates with originality. This creative combo goes beyond simple coordination and provides a blank canvas on which to display own flare. Discover the tricks of creating a unified look where wallets and jackets work in perfect harmony as we go on a journey.
Choosing the Right Leather: Matching Textures and Tones for a Harmonious Look

Men's Cubic Crocodile Leather Mini Wallet If you are looking for a finely crafted, small but exquisite wallet. That doesn't compromise on style, size, and functionality then this is it! This genuine leather wallet has been hand-stitched with waxed polyamide thread and comes in a range of colors to suit your personality and mood. The 3d Cubic Crocodile Texture With a Soft Glossy Finish Outer adds depth and lustre to its real feel.
The selection of leather becomes a crucial brushstroke in the masterpiece that is your ensemble in the world of fashion alchemy. A symphony of beauty and balance is revealed by matching the textures and colours of wallets and jackets. The sensuous attraction of leather meets the visual harmony of colour in this tasteful assortment, which is more than just coherent. Join us as we explore the subtleties of selecting the ideal leather to create a truly stunning and harmonious design.
Exploring different leather textures
Textures are the intangible storytellers in the world of fashion that give each outfit dimension and personality. The story gets much more interesting when it comes to leather since a variety of textures appear, each with a unique story to tell. This investigation takes us on a tactile voyage across the vast world of leather textures. From the soft caress of lambskin to the rugged beauty of distressed leather, and offers insights into how they define and improve our style.
Finding complementary color tones
Fashion colours have a remarkable capacity to arouse feelings, convey moods, and produce visual harmony. Finding harmoniously compatible colour tones is the art of the trade when it comes to leather jackets and wallets. This exploration of hues, tones, and palettes leads us through the challenging process of making colour selections that not only complement. But also heighten the attractiveness of our leather suit, creating a spectacular and well-balanced visual composition.
Caring for Your Leather Investments: Maintenance Tips for Wallets and Jackets
Leather Wallet:

This elegant Hand-Stitched Leather Long Wallet is crafted from 100% vegetable-tanne cowhide leather and hand sewn by skilled artisans. The soft feel finish makes this wallet an excellent choice for men and women who want to carry their essentials stylishly. With eight card slots and two cash pockets, this long wallet can hold up to 20 cards/receipts. As well as your cash receipts or other important documents.
Leather Jacket:

This Men's Sheepskin Leather Jacket gives you the ultimate in comfort and style. The high-quality sheepskin material on the outside and faux shearling inner layer provides a soft feel that's sure to keep you warm during any temperature. The deep front zip closure allows easy on and off with just one hand, while the button-up collar and turn-down cuffs offer style.
Your leather purchases are more than just statements of style; they are evidence of enduring quality and design. They need to be properly cared for in order to mature gracefully. Moreover, this manual digs into the finer points of upkeep and provides advice on the careful maintenance schedule that your leather purses and jackets demand. We'll examine the techniques for conserving the silky textures and deep hues. That characterise these pieces, ensuring they continue to be a source of pride for years to come, from cleaning to conditioning.
Proper cleaning and conditioning routines
Knowing how to clean and condition leather items properly is key to extending their lifespan. However, these rituals protect the beauty and durability of your wallets and jackets and go beyond simple activities. The painstaking skill of caring for your leather items is explore in depth on this tour. We break down the procedures to preserve the lustre and supple touch that characterise your pieces. Ensuring they age like fine art, from removing contaminants to infusing crucial moisture.
Extending the longevity of your leather accessories and outerwear
Some items in the world of fashion have the capacity to withstand fads and last a lifetime. Among these priceless items are your leather accoutrements and outerwear, which tell a tale of style and personality. The ability to prolong them becomes crucial for ensuring the continuity of this story. Come us on a journey as we reveal the techniques for protecting these prized possessions. So they can age beautifully and continue to enhance your style for years to come.
Sustainable Choices: Investing in Timeless Leather Pieces for a Lifetime of Pairing
This men's sheepskin leather jacket is one of our most luxurious jackets. Made from premium sheepskin and featuring an open hem, However, this dark brown faux shearling fur trimme coat is designed to make you feel warm and comfortable. It features two side zip pockets on the exterior and a turn down collar for a versatile look, making it ready for any occasion.
The road to lasting fashion is paved with sustainable decisions in a world that is becoming more aware of its environmental impact. In the midst of fads, the fascination of classic leather items endures unwaveringly as a symbol of everlasting beauty. Moreover, this investigation allows us to go out on a voyage of responsible dressing, where we learn the craft of making investments. In leather goods that last the test of time, adhere to moral principles, and produce endlessly stylish outfits.
Ethical considerations when purchasing leather products
The attention on leather goods grows as the fashion industry shifts towards ethical conscience. Each purchase has a significant effect on the environment, workers, and animals throughout the supply chain. In order to successfully navigate the intricate world of leather fashion, ethical considerations have become essential. Moreover, this investigation explores the complex world of leather sourcing, manufacture, and the decisions we make as ethical consumers, illuminating the significance of fusing fashion with moral principles.
Making conscious choices for enduring style and minimal environmental impact
An developing paradigm places environmental sensitivity at the centre of its pursuit of style. Making thoughtful decisions isn't just a trend; it's a fundamental change towards enduring elegance with little impact on the environment. However, this investigation reveals the art of choosing items that connect with timeless allure. While leaving a light environmental footprint as we navigate the complex tapestry of fashion. Find the harmony between long-lasting fashion and environmental awareness in each conscious decision we make.
Conclusion
The combination of high-quality leather wallets and leather jackets emerges as a creative representation of fashion in the world of clothing. However, this path has illuminated the subtle balance between ethics and beauty, from harmonizing textures and tones to adopting sustainable options. As we come to a close, it's important to remember that timeless elegance has an appeal that transcends passing fads. However, taking care of and protecting our leather investments, we help to create a story that speaks of enduring sophistication and conscientious consumption.