| Arcane Fox Blogs
What To Wear With A Punk Leather Jacket - Guide For Men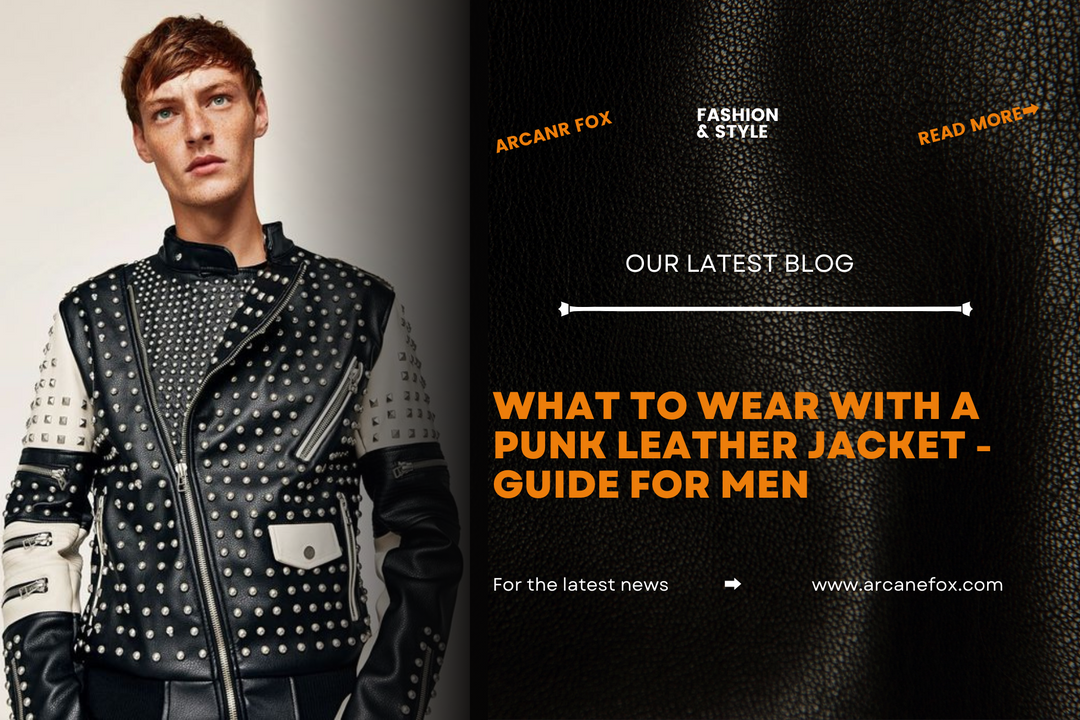 What To Wear With A Punk Leather Jacket - Guide For Men
A punk leather jacket is more than just outerwear; it's a statement piece that exudes attitude, rebellion, and undeniable style. For men who want to embrace the punk aesthetic, understanding how to wear and pair this iconic jacket is crucial. In this guide, we'll explore how to make your punk leather jacket the centerpiece of your wardrobe and answer common questions about its styling.
How to Wear a Punk Leather Jacket?
The Men's Studded Biker Leather Jacket In Black is a great choice for any man who loves to look cool and stylish. However, these leather biker jacket features zippered pockets, two side zip pockets and one breast zip pocket, two metal studs, one snap button cuff, open hem style collar and a notched collar with a snap button.
Minimalist Approach
Let the jacket speak for itself by pairing it with minimalist essentials. A simple white T-shirt and black jeans create a sleek punk look without overwhelming the outfit.
Band T-Shirt Combo
Embrace the punk spirit by wearing your favorite band tee under the leather jacket. It's a classic choice that pays homage to punk's musical roots.
Ripped Jeans
Ripped and distressed jeans add an edgy touch to your punk ensemble. Opt for black or dark denim to maintain the rebellious vibe.
Footwear Matters
Combat boots or high-top sneakers complete the punk look. These rugged options enhance the rebellious feel and are comfortable for all-day wear.
Accessorize
Don't shy away from accessories like studded belts, chains, or leather cuffs. They add a punk-rock edge to your outfit.
What to Pair With a Punk Leather Jacket?
Our Men's Gold Studded Leather Biker Jacket is made from soft leather, featuring high-quality studs that are securely added by hand. However, this men's studded leather jacket features a zipper closure with one zip pocket on the left chest area, two side zip pockets and a notched collar with a snap button closure on the collar.
Graphic Tees
A punk leather jacket looks great with graphic tees. These shirts with strong prints enable you express your individual style while giving your ensemble character. When matched with the rebellious mood of a leather jacket, graphic tees, whether they bear legendary band logos, artwork, or statements, produce a coherent and edgy aesthetic.
Skinny Jeans
A key component of the punk fashion look are skinny jeans. Their modern, form-fitting style harmonises with the edgy mood of a leather jacket to produce a well-balanced and fashionable combo. Slenderizing your figure and exuding punk-inspired bravado, thin jeans look great in either basic black or dark denim.
Accessories
In order to achieve the ultimate punk leather jacket style, accessories are essential. Your clothing gains a genuine punk-rock edge thanks to accessories like skull rings, chain necklaces, leather cuffs, and studded belts. So, you can express your individual style and enthusiastically embrace the punk aesthetic with the help of these accessories, which help to complete the rebellious aesthetic.
How to Style Your Punk Leather Jacket?
This Men's Studded Leather Biker Jacket In Blue is made of genuine leather and features studs on the collar, cuffs, and waist. The men's studded leather jacket is lined with a viscose lining and has a zipper closure in the front. It has two side zip pockets and one breast zip pocket on the outside, along with two side zipper pockets on the inside.


Casual Cool
Go for a casual look with a white T-shirt, ripped jeans, and high-top sneakers. This effortlessly cool ensemble is perfect for everyday wear.
Rock Concert Ready
If you're heading to a gig, a band tee, black jeans, and combat boots are your go-to options. Top it off with your leather jacket for that ultimate rocker vibe.
Date Night Edge
Impress on date night by pairing your jacket with a well-fitted shirt, dark jeans, and leather boots. Moreover, this combination strikes a balance between edgy and refined.
Layering for Winter
When the temperature drops, layer your leather jacket over a hoodie or flannel shirt and add a beanie and sturdy boots for warmth and style.
What Should You Avoid With a Punk Leather Jacket?
Mismatched Styles
Avoid pairing your punk jacket with styles that clash with the rebellious aesthetic. Choose complementary pieces to maintain the overall look.
Is It Acceptable to Wear a Punk Leather Jacket?
This men's black studded leather biker jacket is made from real cowhide and features a studded design. It has a zipper closure, two side zip pockets, one breast zip pocket, a notched collar and zip cuffs.


Unquestionably, expressing your attitude and style by donning a punk leather jacket is not only acceptable but also praised. It is a timeless wardrobe essential because it is a multi-generational, versatile fashion item. Whether you want to add some rebellious appeal to your regular outfit, whether you're going to a concert or a night out. A punk leather jacket is an ever-in-style declaration of uniqueness and fashion-forward confidence.
Conclusion
A punk leather jacket is a daring piece of clothing with countless styling options. So, you can easily add this famous piece to your wardrobe by learning how to dress and combine it. Whether you're aiming for a casual, rocker, or refined look. Your passport to capturing the rebellious punk rock spirit is the punk leather jacket.